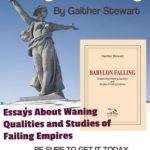 ---
About the Author
 Patrice Greanville is TGP's editor in chief.
PATRICE GREANVILLE Speaking of the innocence of Myshkin, the protagonist of Dostoevsky's novel, The Idiot, Stewart writes: "The innocence I am considering in the essay, "Innocence" is precisely Myshkin's innocence, NOT the ignorance of uneducated, unschooled, unlettered common people. I have in mind instead the ignorance of the sophisticated and educated elite, the specialists, the ignorance of our political and economic leaders and masters who are morally ignorant, incapable of distinguishing between good and evil, the antonym of Myshkin's innocence of the clean hands of virtue and morality.
This work is licensed under a Creative Commons Attribution-NonCommercial 4.0 International License.
---
By subscribing you won't miss the special editions.