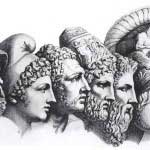 ---
=By=  Gaither Stewart
(Rome)

Hubris in ancient Greek referred to excessive behavior or lack of measure, transgressions for which the gods punished offenders.
Hubris referred to actions that humiliated the victim for the pleasure of the abuser. In modern usage, hubris means extreme pride, a loss of contact with reality and an overestimation of one's own capabilities, usually of persons in positions of power. Political writers apply it also to groups and in a special way to the United States of America and its leaders. Personally I try to avoid words which are being widely used, sometimes, it seems, at random. When I use the word hubris I have in mind the meaning of arrogance; in any case I intend a despicable quality.
A
n expressive Greek word I have come to love is
hamartia
. The meaning I attach to the word is a character FLAW. Though
hamartia
, especially in ancient Greek literature, is a negative quality that leads to tragic consequences, I also use
hamartia
as a character weakness such as drug or alcohol addiction, a flaw to be overcome after a life-and-death struggle, a struggle, if won, that molds and strengthens character. I conceive of
hamartia
as a necessary quality in a positive literary protagonist or in a hero in real life. The person you love and admire most has most probably struggled and overcome his
hamartia,
which most of us have somewhere in our being.
Though ancient Greeks as a rule applied these dramatic words to the individual—Antigone's flaw was her stubborn loyalty for which she paid with her life—we today apply these words also to entire societies or nations. We can label Europe's hubris its Eurocentrism; its hamartia (for which the ancient Greeks would perhaps punish it collectively), is its destructive nationalisms on the one hand, and its contemporary subservience to America on the other. Continue reading »