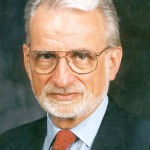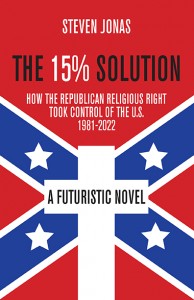 By Vivien Conroy, Marketing Outreach
Steven Jonas' revised edition of his classic, The 15% Solution, How the Republican Right Took Control of the US, 1981-2022, a futuristic novel outlining in detail how the Christian fundamentalist right could take over the reins of the US government has just entered main distribution through Amazon (US, France, Germany). The tip sheet reads:
Written as "true fiction" The 15% Solution focuses on the threat of fascism, "American style," posed now by Christian fundamentalism operating within the confines of the Republican party. The book shows how theocratic authoritarianism can be gradually introduced into any country, even the "world's greatest democracy," behind a façade of Constitutional legality, no less. As a "dystopic future history" it follows in the tradition established by its major forebears: Jack London's The Iron Heel and Sinclair Lewis' It Can't Happen Here.  Dr. Jonas' book, based on what the Republican Christian Right has already told us they will do as they gather more and more power, may, sadly, well prove to be correct.  That is unless the U.S. people wake up to what is happening all around them and do something about it before it is too late.
Electronic editions are currently available in all major formats, including Kindle, Epub, etc.
For further information about this title, please contact Vivien Conroy at 845-363-1687.
Or visit Amazon.com, Barnes & Noble, or any other major bookstore online.