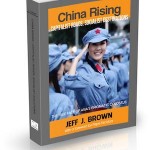 Dateline: April 1, 2017.
China Rising, Capitalist Roads, Socialist destinations, Jeff Brown's authoritative volume on China's modern history, entered distribution in print format in early April, after some delays caused by sudden changes in the policies and requirements being implemented by major marketing channels. The book, which had seen its eBook edition appear in June 2016, necessitated a thorough revision to reduce the number of images and videos utilized in the electronic format to bring the print version to market at a reasonably competitive price. The elimination of some of the audiovisuals allowed a trimming from 568 to 453 effective pages. China Rising has surprised all the pundits, being a best seller in its China book categories, staying for weeks in the Top Ten and Top 1%.
As a courtesy to buyers of the print edition, the book offers a concordance with its images and hyperlinks on China Rising's anchor website, at http://chinarising.puntopress.com/2016/01/27/china-rising-visuals-hyperlinks-for-print-edition-duplicate/ .