Reviewed by JP Miller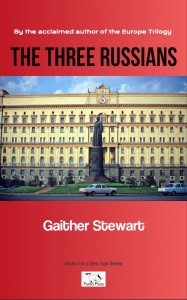 The Three Russians. Punto Press, June 2016. By Gaither Stewart

---
---
"The Three Russians" by Gaither Stewart, TGP's own Senior Editor and European Correspondent, has just been released and is available at Amazon and other outlets.
I
t may seem strange to begin a review of a "spy story" by noting the stalwart morality of an apparently irredeemable and ruthless spy. But, Stewart's creation of Misha Nikiforov, ex KGB and Russian successor to his influential and unforgettable Anatoly Nikitin of the novel,
The Trojan Spy,
and a spiritual brother of Oleg in the accompanying story in this volume,
Shadows Beyond the Wall,
is a quixotic and complicated character. He is unbound by simple ethical aims or religious righteousness. He is a hard-hitting yet philosophical man with his own set of morals that are somewhat Dostoevskian … or simply Russian, if you like. These self-made characteristics and responsibilities serve his ultimate goal of virtue in a world lacking even a drop of honor. Thank God for spies.